Defoe & Bradley Not The Only TFC News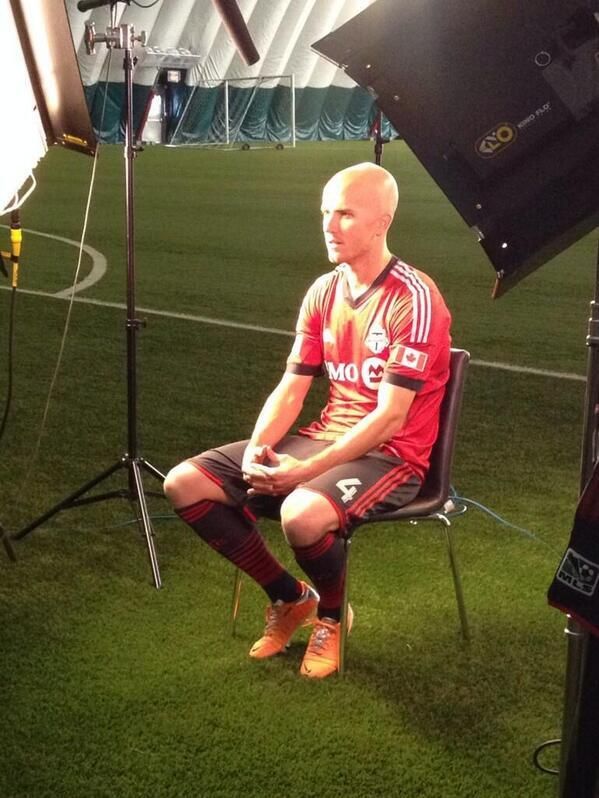 The noise around the unveiling of Jermaine Defoe and Michael Bradley this week, and the chatter leading up to the announcement over the past few weeks have had the unintended consequence of drowning out some other pieces of news surrounding Toronto FC that I think deserve some renewed time in the spotlight.
GM Tim Bezbatchenko let on after the announcement of Michael Bradley's signing that Toronto FC has entered into an agreement with selling club AS Roma that will see younger TFC players heading to the eternal city during the off seasons ahead to train with the Seria A side. On top of the contractual arrangements just finalized with Tottenham this means that young players with the club will be able to benefit from training with (all due respect to TFC and MLS) a higher quality of player and coaching staff.
Nothing but good can come of this.
Also under the radar was word posted on Canadian Soccer News (http://canadiansoccernew.com) last week that Toronto FC will be entering into an arrangement for 2014 with the Wilmington Hammerheads of USL Pro (For those not aware of USL Pro it is the US Soccer Federation sanctioned Division II Soccer League a tier below NASL and two below MLS). This arrangement will see potentially up to at least four TFC youngsters being loaned out to the Delaware based outfit for the season ahead as a way to get precious minutes.
Since TFC dropped out of the scandal plagued (and now non sanctioned) Canadian Soccer League, and as the MLS Reserve League remains a joke at best this is a smart play towards getting some of the talented young players on the current roster moving along on their developmental trail. Rumours also persist that TFC is looking into the possibility of getting directly involved in USL Pro in 2015 in an ownership position with either a franchise located in Hamilton or in Downsview based out of the Training Academy.
Emery Welshman and Kyle Bekker, and newcomer Jordan Hamilton are the kinds of player who now face the likelihood of languishing on the bench or in the reserves unless the club can find a way to get these players meaningful minutes. Hopefully we should hear word soon.
Speaking of Jordan Hamilton, he is the seventeen year old Academy graduate last week who signed to a professional contract with TFC. He is the ninth player in club history to do so which in and of itself is a wonderful accomplishment for the club, especially considering that the Academy only got truly underway in 2009-2010. So far only Doneil Henry and Ashtone Morgan have managed to graduate from the Academy and end up resembling something close to a starter for the senior team. The above mentioned plans for getting the youngsters games to help bridge the wide gap that exists between the Academy and MLS is welcome news indeed. To me the missing piece when a promising young player like Kyle Bekker is drafted or a Jordan Hamilton signs a homegrown contract is that you can't afford to let a relatively raw but talented player learn on the job at MLS level if you have better options on the first team available. Kyle saw minutes early on in 2013 when there were no other options available but as the club started to acquire more experienced midfielders he saw his minutes slow to a trickle. He is not going to improve riding the bench. He would have been better off last season playing in USL Pro.
Moving onto the 2014 MLS SuperDraft, which goes later this week on the heels of the just completed Player Combine I do not foresee TFC making much of a splash. Due to previous trades under previous regimes the club had no first or second round selections available, until Bezbatchenko unloaded the unwieldy contract of veteran Bobby Convey to New York, which now means that there are two picks currently available. Mysteriously when TFC traded journeyman Nathan Sturgis to Houston back in 2011 in return TFC received a conditional first round pick in the 2014 draft. There is no word to date on if those "conditions" have been met and if TFC will be getting an additional early draft slot. Of course we cannot rule out that Bezbatchenko might make a trade or trades to either get a player they want in the draft or to obtain some additional allocation or cap space.
Another bit of news simmering under the radar is the fact that it is beginning to look like a foregone conclusion that BMO Field will be expanded. I would guess that we should start seeing more tangible news from the club over the coming months. Tens of millions of dollars of player contracts and transfer fees have to be paid for and along with the now inevitable 2015 season seat price increases will probably come plans to have more seats. Red Bull Arena has a capacity of just over 25,000. Expansion side New York FC are planning a 28,000 + stadium for Queens NY. The StubHub (formerly Home Depot) Center has a capacity of 28,000. There is precedent for stadia of this size in MLS. More seats means more revenue, which no doubt is a consideration for the MLSE bean counters today after the sizeable number of huge ass cheques they have been writing of late. And as the City of Toronto is technically the 'owner' of the stadium there will be a lot of wheeling and dealing by Leiweke in an election year in Toronto I am sure to get this moving.
Tim Leiweke has stated repeatedly that if BMO Field is expanded – and expansion would probably involve the Toronto Argonauts coming into the picture – that it would still be a natural grass equipped soccer stadium that would be enhanced for soccer and not degraded for soccer at the end of the process. How he plans to balance these, at least on the surface, mutually exclusive considerations is a mystery to me. But then again if you asked me this time a year ago if we have Jermaine Defoe AND Michael Bradley playing for Toronto FC on long term contracts I would have not believed it either.
Finally there is a promotional photo of Michael Bradley I posted above making the rounds on Twitter today showing what might likely be a new look for Toronto FC in 2014. No longer a red jersey with red socks the red jersey remains matched with black shorts and socks. Looks pretty sharp if you ask me. Seen on the far right edge of said photograph is another jersey that perhaps looks like it is black with the obligatory Adidas red stripes. We are well due for a new away strip. Might it be primarily black instead of white for 2014?
More to follow on all these developments I am sure over the coming days and weeks.