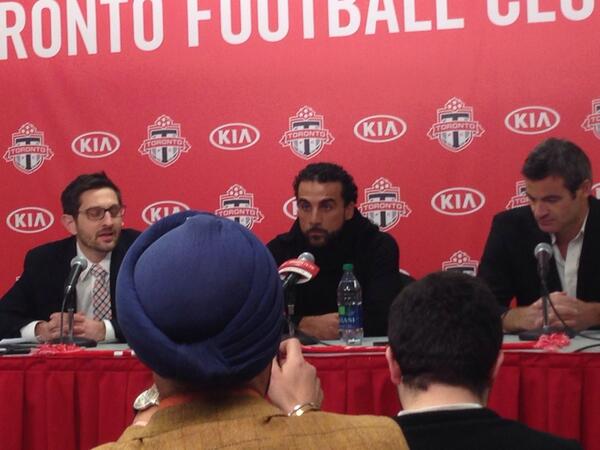 Dwayne De Rosario has returned to Toronto FC.
Let that sink in for a moment…
Honestly I thought I would never ever see the day.
And now that the day has come and he is officially a Red again I want to take a moment to sincerely apologize to him.
You see myself, and a vast number of others, heaped a lot of scorn on Dwayne towards the end of his first stint with Toronto FC. I personally in this space at various points along the timeline  told him to 'shut up' – I stated he needed to be stripped of his captaincy – Essentially called him a liar about his version of the circumstances surrounding his trip to Glasgow back in 2010 to 'train' with Celtic and called him out over the cheque writing thing. Basically I chose to give the club the benefit of the doubt over the player.
And to paraphrase our Mayor – for all of this I am truly Truly TRULY sorry.
I was wrong.  
And I hope that I get the chance soon to shake DeRo's hand, look him in the face and tell him so man to man.
Dwayne took pains in his media availability today after the official announcement to draw a line under his previous time here and to not get drawn into discussing the numerous issues that led up to his acrimonious departure in 2011. Considering what his return has done and may mean for the club long term (which I will touch on that a bit later) I for one am willing to forgive and forget. Not to mention that this was the classy and professional route to take on his part. Not that everything in the past was absolutely 100% on one party or another mind you, but if Dwayne is ready to move past it all then so am I.
We all saw the shambles that Toronto FC further degenerated into after DeRo's departure and how the malaise amongst the fan base that descended these past three seasons spoke to the fact that it was the club and not the players that were overwhelmingly the true source of dysfunction. Mo Johnston (and of course his pal the "corrupta est agens" – Barry MacLean), Tom An$elmi, Earl Cochrane and their ilk have all been proven out to have been the true problems with this team. They ALL lied & cheated. They ALL broke promises. They ALL made grievous errors. And they have ALL been shown particularly over recent days and weeks, to have been the incompetents that the owners should never have ever let into BMO Field, let alone run or influence the management of this club. The new regime is putting all these hacks to shame with their professionalism and ability.
On the Fan 590 this afternoon in response to question about how his return to Toronto FC was orchestrated DeRo said the fact that TFC even called him was a huge shock. Laughing with the hosts he stated that he wondered if it was April Fools Day or some sort of joke a buddy was playing on him when he picked up the phone. This phone call, which of course led to today's return, is representative of the long term change that I wanted to address  in this post as it is emblematic of the change in culture at the club since Tim Leiweke and Tim Bezbatchenko took over last year.
Reading between the lines today I think one thing is clear. Dwayne De Rosario would not have taken a call from Earl Cochrane or Tom Anselmi. He did take a call from Tim Leiweke. And Mr. Leiweke has the reputation, the charm and the gravitas to make a man with EVERY reason to be skeptical consider that it was worthwhile coming home.
The impending arrivals (if you believe everything Twitter tells us) of Jermaine Defoe and Michael Bradley and the commitment to getting the on field product right that signings of this magnitude represent could not have hurt either. Perhaps most importantly just as Dwayne drew a line under the past today by signing back onto the project that is TFC the club is drawing a line underneath the old ways of doing business by bringing him back.
The new regime is truly a new regime for TFC.