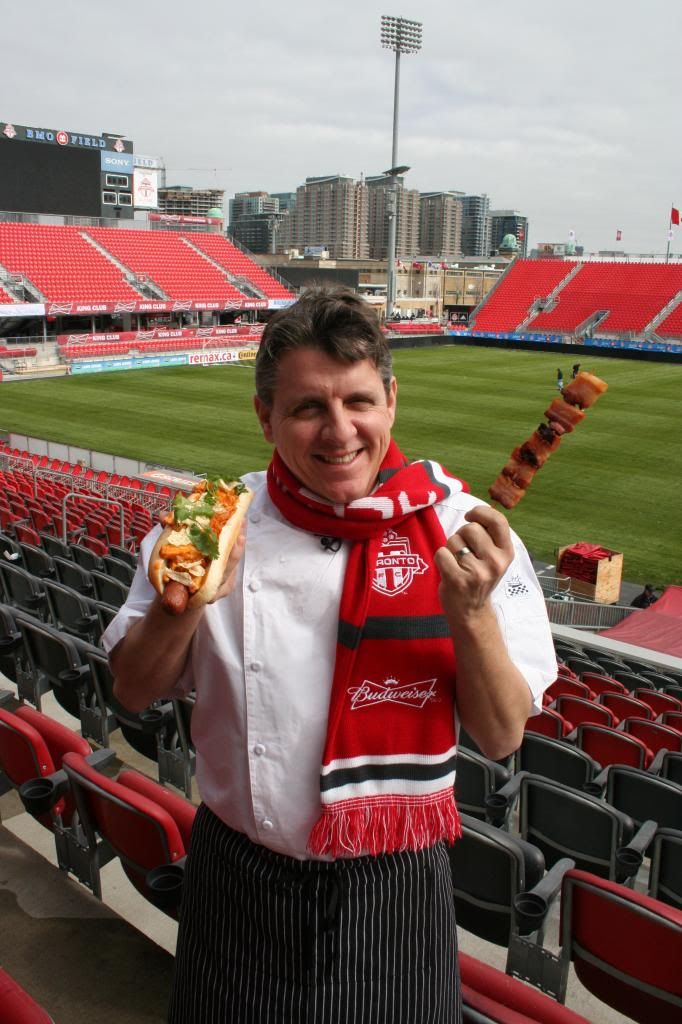 Forgive the fluff in advance.
Wednesday evening of this week I got a message from Mike Masaro (who takes care of TFC's media relations) who wanted to invite me to drop down to BMO Field Thursday morning to get a peek and a taste of the new menu items that MLSE will be offering to its paying customers this season.
For the record I am not a food critic. I am a big guy and I like my grub but I hardly ever eat at BMO Field. My tradition is to make brekkies with the better half on the morning of game days before we head down to the stadium. I can probably count on one hand the times I have eaten at a Toronto FC game in the past couple of years. And usually it is a slice of pizza or a bag of peanuts. I don't go to the ground for the cuisine.
Still it was cool to get the invite and the chance to see what was on offer.
I got to taste about five of the about twelve new items. The two hot dogs  were the Señor Dog – a Mexican style dog that is REAL spicy and something that at the time felt real odd but was real tasty – namely the Butter Chicken Dog. Liked the Señor but loved the Butter Chicken Dog. the crispy papadom and coriander on top sounds weird but works well.
The veggie samosas (with a nice tamerind dipping sauce) I had to try. I was on orders from the better half to see what the vegetarian options were like and they were OK. Not great, but good enough.
The highlights for me were the "Bacon on a Stick" and the Porchetta. Both piggy based items are from locally sourced farms. The bacon on a stick is self explanatory in appearance but the preparation is not. The bacon is skewered then grilled and before serving with a side of dijon mustard dipping sauce is dunked in maple syrup. A tasty (and likely expensive) home run.
A slow cooked (ten hours according to the chef) Porchetta, which is a whole roast pig, is also on the menu. Each pig will be able to stuff about a hundred odd pork sandwiches, which tasted real nice. Depending on demand they will be judging how many little oinkers will be needed each game.
No pricing was discussed but my guess is ALL of this stuff is going to be more pricey than the usual fare.
On the beer front the Budweiser re-branding is on. Between the Budweiser "Big Rig" Truck/Bar in the north end to the signage literally everywhere, be ready for a full court press from the Budweiser people. The one significant difference other than the beer itself from the previous setup is that the north end will be open two hours before every game time and prices will be discounted. TFC is in my opinion thinking creatively here about finding ways of getting fans into the ground early and at least for the atmosphere on offer should be a good thing this season.
And finally the club released some interesting news on Friday regarding the roster. The club announced that journeyman midfielder Julio Cesar is being turfed before ever playing a MLS game with Toronto. One can speculate if it was that Cesar was superfluous to plans, whether his injury had an impact on what he could bring to the table, whether it was some personal or locker room issue that came to light or that a player who was on a relatively high wage (supposedly over 200k I believe) was not seen as value for money.
In any case this probably means short term that Terry Dunfield and Jeremy Hall will still get meaningful minutes in lieu of what Cesar would have perhaps secures for himself. Luis Silva returns from injury and might feature again as well adding some needed creativity to the middle of the park.
So some new food, new beverages and a lot of new players will be on display at BMO Field for the first time on Saturday. Not concerned as much about the grub or the suds, but hopefully a Donovan/Keane less Galaxy can be served up on Saturday on a platter.